General: While the Elkhound is still used for hunting in some areas, it is not a specialized or "prima donna" breed. Today it is essentially the same all-round bred as the one that lived and worked with the Vikings as an integral part of their everyday lives.
Physical Appearance: The Elkhound is a medium sized dog: about 20" at the shoulder. It is solid, compact and square in profile. A "sound" elkhound moves freely; light on its feet, with an effortless changing gait to match what it is doing and the area in which it is travelling. The Elkhound is a double- coated dog. The soft, thick silver-white undercoat is one of the densest of any breed; it insulates against heat as well as cold. The topcoat is coarse, smooth and weather resistant.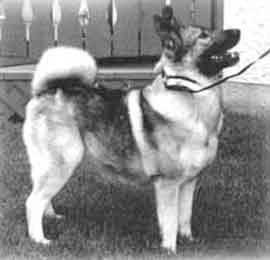 Personality: The Elkhound is a very intelligent breed/ quick to learn; both males and females are very easy to train. The Elkhound has a confident and outgoing personality. It is neither timid nor aggressive. It will be assertive enough to "stand its ground" when necessary, but does not challenge, look for trouble or pick fights. The Elkhound enjoys most outdoor pursuits, but is also quite happy to "hang out" with its family. Its steady, even temperament makes an Elkhound trustworthy around other animals; its intelligence and gentleness make it an excellent companion for people of all ages and lifestyles.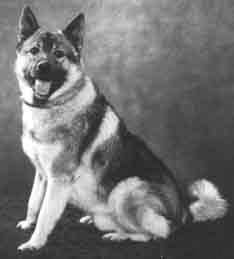 Although many people refer to Norwegian Elkhounds
as simply "elkhounds", there are other breeds of elkhound.
If the puppy/dog you are considering is a purebred Norwegian Elkhound,
you should receive proof of that – a registration certificate from the Canadian Kennel Club.