AT OVERSCAIG WE PLACE SHOW QUALITY PUPPIES IN "FAMILY" HOMES
Our goal is to place our puppies in a "lifetime" home.  We consider many factors: is it your first family pet; have you owned an elkhound before; what is the size/makeup of your family; how active is your lifestyle; etc.
All our puppies are sold fully registered and microchipped. They have up-to-date vaccinations and are "vet-checked" for overall health.

All our puppies are equal in quality; therefore we do not make distinctions between genders, age, guarantee(s) or restrictions.

We place a non-breeding agreement on all our puppies. If, when the dog is 18-24 months old, an owner decides they want to breed the dog, we will guide them through the process of hips and eyes testing and the CKC paperwork. If you live in the USA, and wish to show the dog (whether or not you plan to breed it) we will arrange a less restrictive written agreement.

We welcome all interest in our puppies and will keep in touch with prospective buyers. However, we do not accept deposits until we actually have puppies. We are happy to take a deposit from you when "your" puppy is 2 weeks old.

If circumstances change and you do not take your puppy, we will refund 50% of the deposit. If, in the first 10 days of ownership, you decide (for whatever reason) to return the puppy, we will refund 50% of the total price. The funds we retain help to cover the cost of "re-placing" the puppy.

All our puppies come with a health guarantee against debilitating genetic disorders. We offer this because we know that, no matter how careful we are, NO ONE CAN GUARANTEE that a dog(of any breed)  will NEVER have any genetic issues.
Thank you for considering an Overscaig elkhound to be part of your family.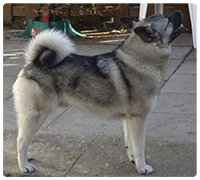 These are our general timelines for upcoming litters. Please contact us for specific litter information / pedigrees / photos.

Fall, 2015
Spring, 2016
Fall, 2016