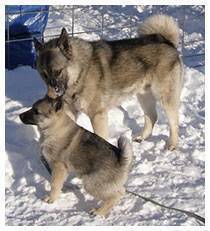 Where can I find one?
You have made the right start by finding us –long time hobby breeders. As hobby breeders we are members of the community just like you. We care a great deal about matching the individual / family with just the right canine companion. We know our puppies and will be there for you if and when you need extra assistance or advice.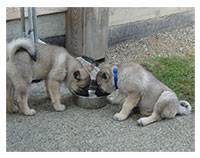 Puppy or older dog – which one is right for me?
Almost everyone wants a "baby puppy" (they are irresistibly cute); but often prospective owners find that a slightly older dog is a far better choice. Sometimes we have, or know of, a slightly older puppy or young adult that is available. Please discuss this with us, and keep an open mind. The only reason we still have that puppy is because the right person has not yet come along. You might be that person.
Male or female – does it matter?
As with age, it is best to discuss this with us, as we know the puppies and can advise you on the one that best fits your family. There is no hard evidence to show that one is "better" than the other; and nearly 40 years of experience tells us there is no significant difference.
What about Costs/Guarantee?
We price our puppies to make them affordable to individuals / families; while ensuring that we cover the overall litter expenses and the general cost of maintaining healthy active adults in a clean and happy environment. We don't just breed to produce puppies for a "market". Every breeding is done with the intent of maintaining/enhancing/improving those important traits that make an elkhound the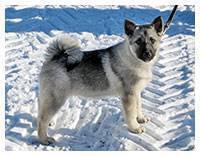 dog that it is. You have our guarantee that we will stand behind the dog that we have sold you.
Registration Papers – yes or no?
Absolutely YES!
Official registration/ownership papers are required by law under the Livestock Pedigree Act/Agriculture Canada. They are one of the less expensive costs in raising a litter of puppies; but they are your guarantee that you are receiving what you paid us for: a purebred elkhound, with all the all the physical and personality traits of the breed.