OVERSCAIG(PERM.)REG'D
NORWEGIAN ELKHOUNDS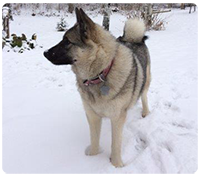 Over the past 40 years we have owned, shown, bred and raised Norwegian Elkhounds. We have remained true to the breed and the Norwegian standard; having imported two excellent young females from Norway in the past 8 years.
We are premier life members of the Canadian Kennel Club. Our puppies are all legally registered and health guaranteed. We home raise our puppies and are very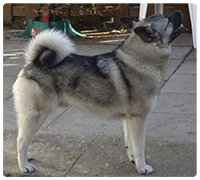 selective in their placement; our goal is the best "fit" possible for the puppy and the family. Over the years we have successfully placed puppies across North America.
We now have our puppies happily placed in their permanent homes; and are looking forward to our Fall/15 breeding. Please
contact us
for details if you are interested and feel that this litter, or a possible Spring/16 litter, would be the right timing for you.
TLC KATAHDINS
HAIR SHEEP
We have now merged our small flock of pedigreed registered stock with another top quality flock - TLC Kathadins. Together we will continue to market live animals, semen and embryos, domestically and internationally.
We are also maintaining our working relationship with OCFlock Management Inc.; veterinarians who are expert in small ruminant reproduction, and specialists in Both domestic shipping and international export.
We are members of both the Canadian Katahdin Association and Katahdin Hair Sheep International. We register all our purebred stock.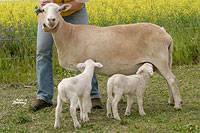 Next katahdin lamb crop due: July/15 Breeding in August for katahdin lamb crop: January/16 ** a limited number of katahdin/white dorper cross ewe lambs available now**
Contact Lynn:
lynn@ocflock.com

Phone: 403-588-5897