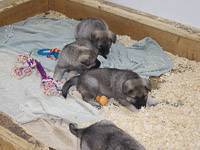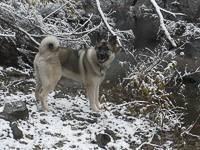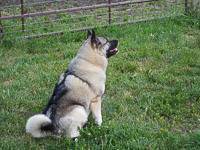 We are premier members of the Canadian Kennel Club; and are pleased to follow the Club's rules and guidelines for ethical, responsible hobby breeders. Our litters are carefully planned; our puppies are all legally registered and health guaranteed.
Due to some unavoidable circumstances, we have had to put puppies "on hold" for a while. We are now looking forward to getting back to our lifelong hobby.
Please contact us if you are interested in having an Overscaig puppy join your family in 2018.
WELCOME TO TLC KATAHDINS – PUREBRED HAIR SHEEP
We are pleased to be associated with TLC Katahdins / Dr. J. Lynn Tait. Lynn has a small pedigreed flock raised primarily to market live animals, semen and embryos both domestically and internationally.
Dr. Tait and her business partner, Dr. Ileana Wenger, own and operate OCFlock Management Inc. - a small ruminant reproduction business specializing in training, collection, storage, and shipping across the country and around the world.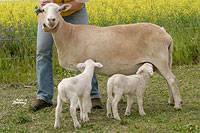 Next Katahdin lamb crop due: January/18
Contact Lynn: lynn@ocflock.com | phone: 403-588-5897